Welcome to the website of Daniel Shaw Consultancy.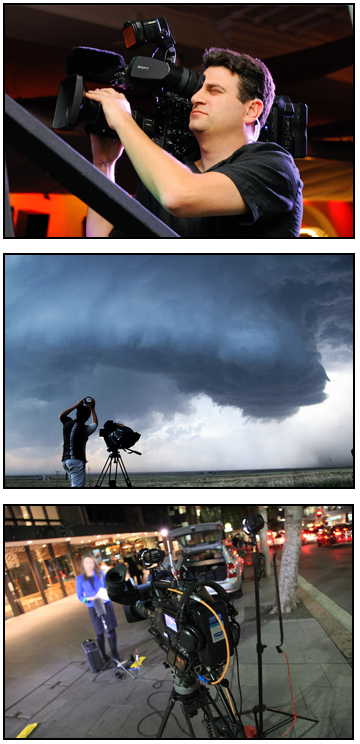 A freelance HD / 4K lighting / camera operator based in Sydney, NSW, Australia.
Daniel is a highly experienced cameraman based in Sydney, Australia.
He has filmed everything from raging tornadoes in the United States to supermodels walking the catwalk at fashion shows.
Daniel began his career in the internet broadcast industry back in 1998. Since then he has worked in television broadcasting, engineering & system design, as technical director, vision switcher, event manager, and more.
He understands the needs of the client and always delivers quality vision, using broadcast quality equipment.
One of Daniel's key skills is knowing how to handle problems that may arise during an event. Quick thinking and having the technical knowledge to problem solve is a quality that is rare.
Daniel has worked with leading media and television networks globally, he not only films for these networks, he has appeared on a number of live broadcasts presenting live on air.
Understanding the pressures of performing on cue is an experience that can be passed on. This is especially helpful during times where people are thrown into the "presenting" role. Many clients who are new to performing on camera are appreciative of Daniel's guidance and calmness.
With Daniel's vast skillset and experience, he can fit into almost any role that is thrown his way.
He plans for disaster but expects perfection.
A range of broadcast filming services are offered by Daniel. These include:
Event Production




(Wired and Wireless Live to Screen)





Corporate Video Production




(Training, Safety Videos, Company Overviews, Product Information)





Live News & Media Services




(Live Broadcasts, PTC's, Interviews, Overlay)





Video News Releases / Electronic Press Kits




(For Media Distribution)





Media Training




(Corporate & Government Clients)





Live Music & Entertainment Event Production


(Live Events, Post Production)



Documentaries, Reality and On-Location Field Production




Web Videos, Live Streaming, Live Broadcasts



HD/4K Video Editing
Watch Daniel perform on camera during numerous live broadcasts, chatting about his storm chasing adventures & presenting on other television programs.

Further information about each service may be found in the Menus above.
Examples of previous work can be found here.
Daniel is pleased to offer personalised assistance to ensure your specific needs are listened to and met, should you require any further information, please contact Daniel by visiting this link.el Shaw Consultancy - Freelance HD Camera Operator & Lighting Cameraman - 4K Filming Sydney - 4K Video Production - 4K Editing - 4K Cameraman Sydney - 4K Camera Operator Sydney, Australia Sydney Camera Crew - Filming Services & Rates - HD Lighting Camera Man Filming Projects - Freelance HD Director Of Photography - Lighting Cameraman Event Production - XDCAM HD Camera Operator - Freelance HD Filming Crew Services Corporate Video Production - Sydney Camera Crew - XDCAM HD Camera Operator - Camera Rates News & Media Services - Broadcast HD Camera Operator - Freelance Filming Services Video News Releases - News Cameraman HD Camera Operator - Freelance Filming Services Media Training - HD Production Camera Operator - Freelance Filming Services sydney cameraman videographer sydney