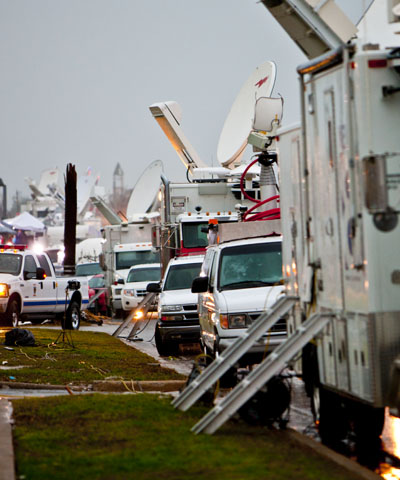 LIVE NEWS & MEDIA SERVICES
News and media services are a speciality of Daniel's and he is ready to respond and capture some of the most dangerous and fascinating news events, twenty four hours a day, seven days a week.
Daniel has worked with all of Australia's commercial television networks, many speciality cable television channels, as well as independent international news networks.
With the use of high speed internet and the ability to deliver live news to mobile devices, news networks are working hard to keep up with the growing demand on the immediacy of video content.
It's critical that remote mobile editing and live streaming uplinks be available when they are needed. Being able to not only deploy the right technology, but also know how to use it quickly is paramount.
With a deep love and understanding for severe weather, Daniel travels to the US each year to chase and report to the media on the tornado outbreaks. There is not much that scares him away from capturing "the money shot".
Being able to calmly capture news events when there's a sensory overload is one of Daniel's core skills. This "sixth sense" is used for all work he performs, but news and media are the most demanding situations where this experience is needed.
Daniel has performed on camera both pre-recorded and live surrounding major US tornado events. He has also provided many live radio interviews for the greater Sydney and national radio networks in relation to significant weather events.
Equipped with 5G connectivity as well as the technology needed for live links, Daniel has the experience to supply local & international news networks either live or by rapid post production and via cloud based CDN's.
Daniel is contactable 24x7 by all local and international media for their immediate needs. Response times and uplink of content can be achieved from phone call to delivery within the hour.