BIOGRAPHY - DANIEL SHAW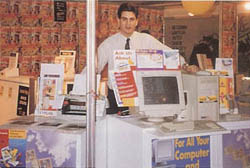 Daniel Shaw is a multi-skilled individual who has been self-employed since 1997.
Daniel started his career in 1993 performing a sales role at Dick Smith Electronics in Sydney. The role demanded a high level of skill with Computers, Radio Transmitters, General Electronics, Electronic Circuitry, Telecommunications and Audio.
After a number of years he became a product specialist and was moved to work with the Head Office. He was later promoted to work with the MIS (Company IT) department and was further promoted to a management role.
In 1995 he became involved with the Australian Music Industry and was quickly invited to assist with productions in laser, lighting, audio and event operations.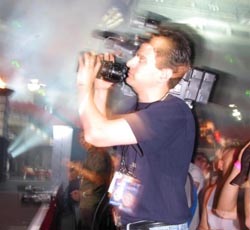 In 1997 he transitioned from his position with Electronics Retail and started a computer consultancy business, specialising in Small Business IT Management.
It was not long until he crossed paths with Australia's leading Internet Broadcaster. (NetVentures). Revolutionary for its time, Daniel was soon given the responsibility of product design, studio & events operations, camera operation, vision mixing & audio operations. He was titled as an Internet Broadcast Engineer.
Constantly dabbling in the deep end with a number of industries, he formed a friendship with the founder of www.inthemix.com.au
A part of this website's success was a section called ITM-TV. Daniel was the first to produce web based video content and went on to film and create over 100 event & interview clips.
In the following years, Daniel's experience in major events and productions led him to work with a leading Sydney production house. His camera skills were further honed along with his
live audio operations.
Daniel was involved in the setup and operations of major events which included people such as the Australian Prime Minister, and President Bill Clinton.
In 2001 he sought his next challenge, to work in the news and television industry.
Utilising his knowledge in radio communications, he was soon relied upon by the Australian media to capture and deliver breaking news to their newsrooms and work with Australia's leading reporters.
News & Media became Daniel's first love and he was fascinated by how quickly a story could change. To date, nothing had come close to the extreme working conditions, demands, and deadlines needed with the production and delivery of video content.
With a deep fascination for severe weather, in 2005, he formed a friendship with Australia's leading storm chaser, Jimmy Deguara.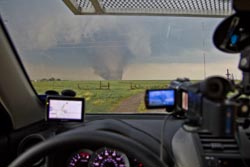 Taking 5 years to develop the skills necessary to chase storms safely, in 2011 Daniel undertook a major storm expedition to the USA, logging over 41,000kms of driving in under 3 months, reporting and capturing the major events for the Australian media.
Daniel is trained as a National Weather Service "Advanced Storm Spotter" (SKYWARN). He not only films and photographs severe weather, he actively participates in the emergency warning process so government and emergency services can warn public and get to safety in times of life threatening situations.
After witnessing the deadly tornado outbreaks in May 2011, Daniel undertook extensive training in Advanced First Aid and Advanced Resuscitation, as well as a number of other qualifications in treating medical emergencies.
In early 2014, Daniel joined the Paddington Division of St John Ambulance NSW. As a committed volunteer, he is very active with St John, performing first aid, event communications, EOC operations & liaison, team lead & command roles and works with the media & communication team. In 2015, Daniel succeeded in upgrading his skillset to becoming an Advanced First Responder.